11/3/2021
We're Here For You: Village Alliance Resources
The Village Alliance is ready to safely bring the neighborhood together.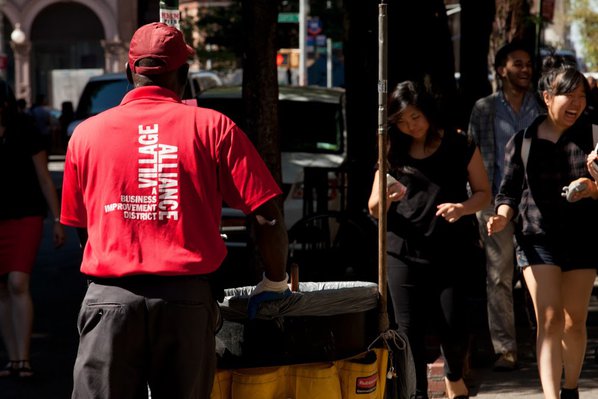 New York City has seen a lot of changes over the last few months as we adjust to life under COVID-19. As your local business improvement district, we at the Village Alliance are continuing to support the community with essential services, regular communications and new programs to safely bring the neighborhood together. 
Our Clean Team is making sure there is no litter in the district and workers are wiping down and disinfecting all street furniture as often as possible. They are continuing to follow recommendations from the CDC and WHO to ensure the safety of our staff and neighborhood, including the following:
No physical touching while interacting with others, including other employees
Maintaining at least 6 feet distance between the themselves and members of the public 
Wearing latex gloves and facial masks while on duty 
Disinfecting all common areas in the public domain such as mailboxes, tops of trash cans, door handles and push plates, benches, transit stops and shelters, and other fixed assets 
Using approved disinfectant and disposable rags for enhanced cleaning efforts
Not reporting to work if they are sick and maintaining contact with their supervisor while away from work due to illness
Our Public Safety Ambassadors continue to be a visible presence as the city re-opens, ensuring there are no large gatherings in our public spaces and providing assistance as needed. All Public Safety Ambassadors are similarly following health recommendations from the CDC and WHO and practicing social distancing at all times. Shift briefings are held outdoors where feasible and any indoor briefings are limited to two to three ambassadors at a time. 
Supporting Neighborhood Businesses
Another great way to support neighborhood businesses is to use your Village Access card! This free program offers residents, students and employees of Greenwich Village exclusive deals and incentives at local businesses. Sign up to enjoy deals like 15% off all purchases at Sticky's Finger Joint or 15% off all shoes and boots at Mind Boggler. Simply present your Village Access app or card at the business to receive your discount. For more information, check out the Village Access website.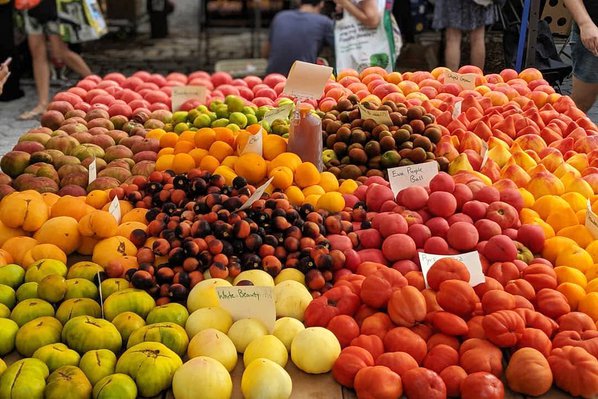 We're teaming up with GrowNYC to bring their beloved farmer's market to Greenwich Village this Summer and Fall. Shop for fresh produce and goodies from local farmers and vendors every Tuesday through November 24th at the new Astor Place Greenmarket! For more details, check out our recent blog post and the Astor Place Greenmarket webpage.
Enjoy car-free outdoor dining every weekend this summer on 8th Street and St. Marks Place! We're partnering with the New York City Department of Transportation to close off West 8th Street between 5th and 6th Avenues and St. Marks Place between 2nd and 3rd Avenues to vehicular traffic on Friday and Saturday evenings through September 5th. Participating restaurants include Mamouns Falafel, 886 and Wicked Jane. For more details and a full list of participants, check out our blog.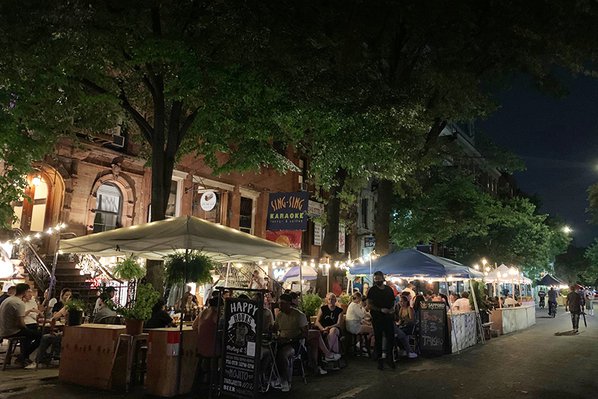 This summer we are partnering with the Washington Square Park Conservancy and NYC Department of Transportation's Open Streets program to create more open space for social distancing. On Sundays throughout the summer, the following streets will become shared streets between the hours of 8:30 AM and 3:30 PM: 
University Place/Washington Square East between West 4th Street & East 13th Street
MacDougal Street/Washington Square West between West 4th Street & West 8th Street
Check out the DOT's website for more information on the Open Streets program. 
Keep In Touch With The Village Alliance
Stay up-to-date with the Village Alliance's many activities this summer by following us on social media and signing up for our newsletter! We're regularly sharing important resources, highlighting local businesses and celebrating our beautiful neighborhood on these channels and you don't want to miss a minute of content. Find us here: