ABOUT US
Welcome to Greenwich Village
The Village Alliance has been a leading advocate for the Greenwich Village community for thirty years. As a Business Improvement District, the Alliance works with area residents, businesses, cultural and academic institutions to ensure the district continues to grow and succeed. Our mission is to create a cleaner, greener, attractive and more enjoyable Greenwich Village neighborhood for all people.

We believe that neighborhoods are vital when they are open, diverse and inclusive. We make our neighborhood cleaner through supplemental sanitation services and graffiti removal; we make it greener and more attractive through landscaping, streetscape enhancements and public art; we make it more vibrant and enjoyable for all people through community events, business marketing and promotions; we make it a safe space for everyone through public safety and hospitality services.
The 44 blocks of the Village Alliance Business Improvement District represent a diverse cross-section of the Village neighborhood. The district centers on 8th Street between Second and Sixth Avenues, and covers neighboring blocks along Sixth Avenue (W. 4th to W 13th St.), University Place (E. 8th to E. 13th St), Broadway (Waverly Pl. to E. 10th St.) and Astor Place. The area has been a pivotal spot in American history and popular culture.
The area shaded in red on the map below represents the Village Alliance District Service Area.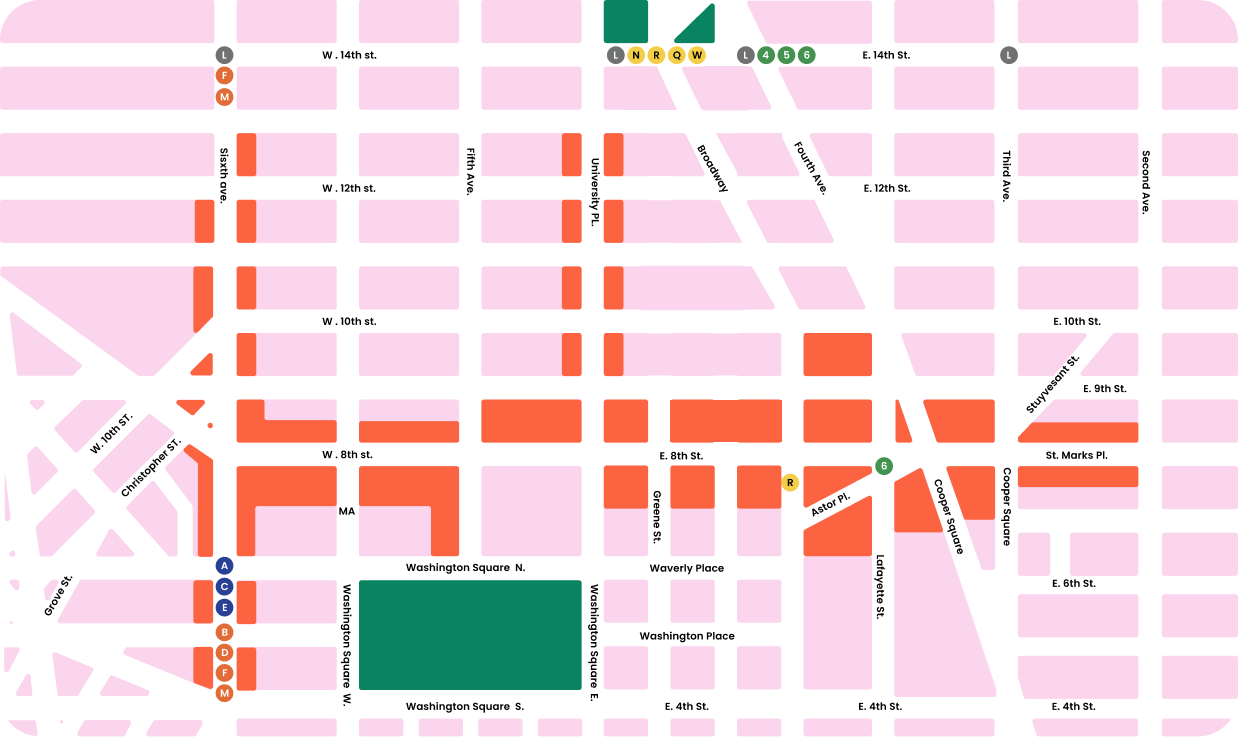 There are currently no open opportunities. Please check back here for open RFPs, job descriptions, and other partnership possibilities.
Village Alliance Board and Staff
President
Martin Dresner
Public Member
Vice President
Arlene Peralta-Avila
New York University
Treasurer
William Abramson
Buchbinder & Warren, LLC
Secretary
Shirley Secunda
Manhattan Community Board 2
Class A: Commercial Property Owners
Greg Gushee
The Related Companies
Michael Lehman
107 University Place, LLC
Kim Newman
The Cooper Union
Adam Pomerantz
Sixth Avenue Equities
Dan Ruanova
Vornado Realty Trust
Neith Stone
GFP Real Estate
Adam Heaven
Rose Associates, Inc.
Jeffrey Sussman
Minskoff Equities
Class B: Commercial Tenants
Ian Ginsberg
C. O. Bigelow's
Sarah McNally Jackson
Goods for the Study
Lenetta Pesotini
Meta Platforms, Inc.
Steve Simicich
St. Marks Comedy Club
Class C: Residential Tenants
Class D: Elected Officials
Hon. Brad Lander
Comptroller
Hon. Mark Levine
Manhattan Borough President
Hon. Carlina Rivera
City Council District 2
Scott H. Hobbs
Executive Director
Taylor Young
Deputy Director
Isabel Albee
Programming + Community Manager
Sponsorship and Marketing Partnerships
The Village Alliance offers various neighborhood sponsorship opportunities to help your business to reach our digital audience of over 50,000 people and increase your street level visibility.
With our marketing partnership program, partners agree to construct a partnership of mutual benefit. Through this, we, as a community can promote the business and events in Greenwich Village and Astor Place more proactively and support the district's growth and success.
For complete information about the marketing partnership and other sponsorship options including Street Lamp Pole Banners, Dining Guide, and Holiday Lighting, click the form below.
Our basic digital amplification package starts at $500 for one year and includes:
8 posts on Twitter (Reach of 55K)
4 posts on Facebook, including 2 paid boosts (Reach of 33K)
4 Posts on Instagram (Reach of 130K)
2 features in our biweekly e-newsletter, the Village Beat (Reach of 6K)
Listing and 2 features on our website (10,000 monthly visits)
Optional participation in the Village Access neighborhood benefits program (Audience 10,000)
The Astor Place plazas are available to activate for many event types, ranging from film and television shoots to brand promotions.
Our plaza event use guidelines (below) outline the permit process, associated fees and contain the application form. Click to view and download these guidelines.