4/11/2022
Checking In With Our Village Recovery Grant Winners: Installment Two
Check in with Village Recovery Grant winners East Village Vintage Collective and Maya Salon.
Last year we launched the Village Recovery Grant Program as a way to help local businesses recover from the COVID-19 pandemic after 1 in 4 storefronts were left vacant across the neighborhood. Through the Village Recovery Grant Program, ten businesses were chosen to receive $10,000 in funding to either open operations in the Village, or pivot their current operations. Keep reading to learn more about some of our grant winners and what they've been up to in the past few months
East Village Vintage Collective
The East Village Vintage Collective started as Maegan Hayward's passion project. Since she was a teen she had been interested in vintage fashion. In her words, "buying vintage was a way to be unique and stand out". When Maegan made the decision to live in the city, the move was even funded by her sale of vintage and antique items on eBay.

Once Maegan landed in the East Village she started working in film & TV for many years, but kept up with vintage sales on the side as a hobby selling items on a website and at pop up markets. However, she wished that this could be her full-time job. While talking to her, she said that she "always knew that [she] would be the happiest if [she] could work for [her]self". So when her landlord agreed to let her start a vintage pop-up in the storefront below her apartment she took the chance. After 6 months she decided to quit her other jobs and devote her time to the shop and now runs the storefront we know and love as the East Village Vintage Collective.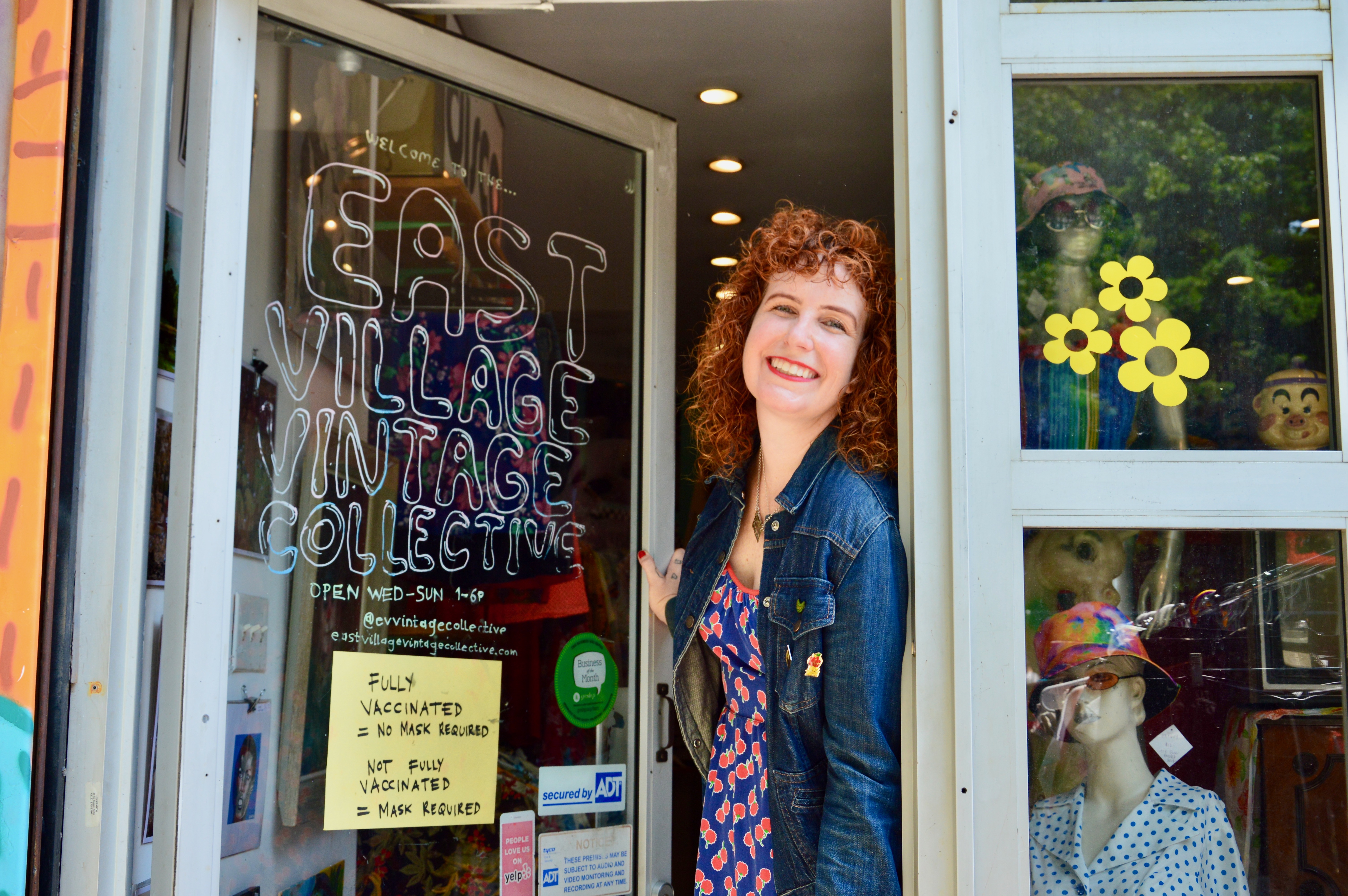 The East Village Vintage Collective is directly inspired by old-school shopping in Greenwich Village. Before her move to the city she'd visit the Village to check out vintage shops and took joy in the energy, music and art coming out of the neighborhood. In fact her move to the Village was directly inspired by Desperately Seeking Susan and the thrift shop Love Saves The Day. Today Maegan strives to bring this special kind of Village spark to the East Village Vintage Collective. She describes the shop as "walking into the inside of [her] brain", with art on display and constant new products. When asked about how she goes about deciding what goes into the store she said: "I genuinely love vintage items. If I have space I'm going to fill it with things. I'm a maximalist not a minimalist". Between her curated vibes and affordable prices, she says that East Village Vintage Collective is not only vintage in regards to the products, but also "vintage in the sense of a throwback" to old school prices and the alternative days of Greenwich Village.

When COVID-19 launched the world into shutdown mode vintage shops around the city were left in limbo. Much of thrift shopping is based on in-store sales, greatly impacting stores' stream of revenue. As a result, Maegan said that some stores even began to do clothing trades among businesses. To combat this loss of profit, East Village Vintage Collective began selling even more items online and set up no contact pick up. As an additional promotion, Maegan set up the Art Through Vintage project in which she would provide artists with thrifted items. These artists would then paint on the items before they were auctioned off with the help of the East Village Vintage Collective. Once products were sold profits were split between the shop and the artists to lend both a hand. Maegan thanks the support of her community and fellow New Yorkers for helping this project and the shop to succeed. She explained that "in general there' s been lots of support. People wanted to support small businesses a lot more as the NYC community really came together".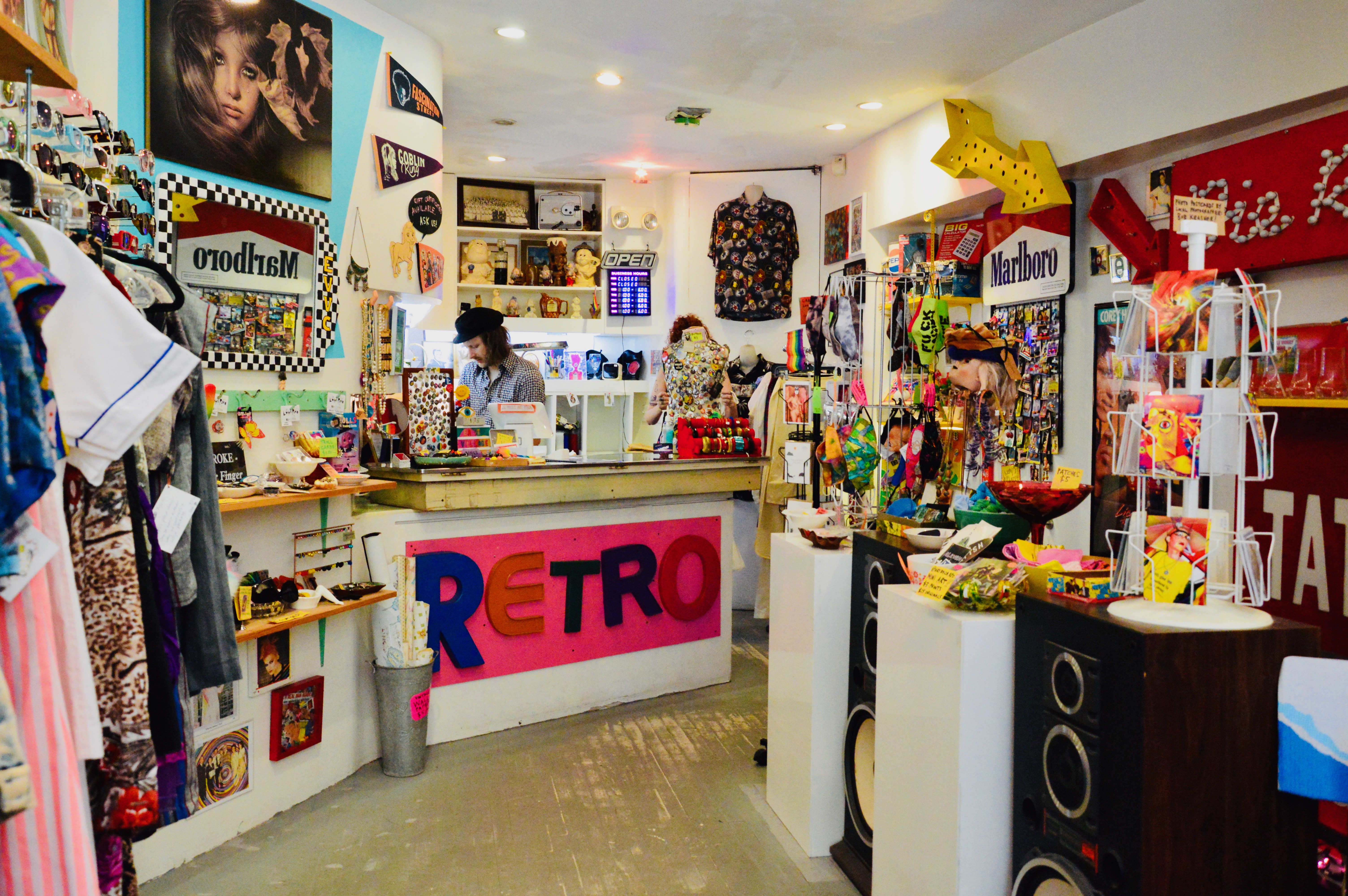 During this time Meagan still had to pay rent on the store, despite having a decline in sales due to the pandemic. Luckily the Village Recovery Grant was available to assist the store as savings began to dwindle. As a micro-business, East Village Vintage Collective didn't qualify for the majority of grants available for small businesses at the time. Thankfully, Greenwich Village is always ready to help its neighbors and the store remains open and thriving today. Today Meagan says that the grant was able to "help East Village Vintage Collective get through the months" and that she feels "special to be a part" of the program.

Time travel back to the alternative days of the Village by going on a trip to East Village Vintage Collective this week. Want a better sense of the vibes before heading over? Follow the shop on Instagram or visit their website for a sneak peek at the store's current offerings.
Located on 6th Avenue, across the street from the Ruth Wittenberg Triangle, Maya Salon is a frequent Greenwich Village favorite. This is due in part to the current owner Jyoti Adhikari. Jyoti knows Maya Salon better than anyone. She started working at the salon in 2004. From the beginning she described the job as "always interesting and passion was there". However, in 2013 the previous owner offered to sell her the business. Jyoti said that "they thought she could run the business more efficiently" and Maya Salon could benefit under Jyoti's leadership. Since then, the salon has thrived under her management.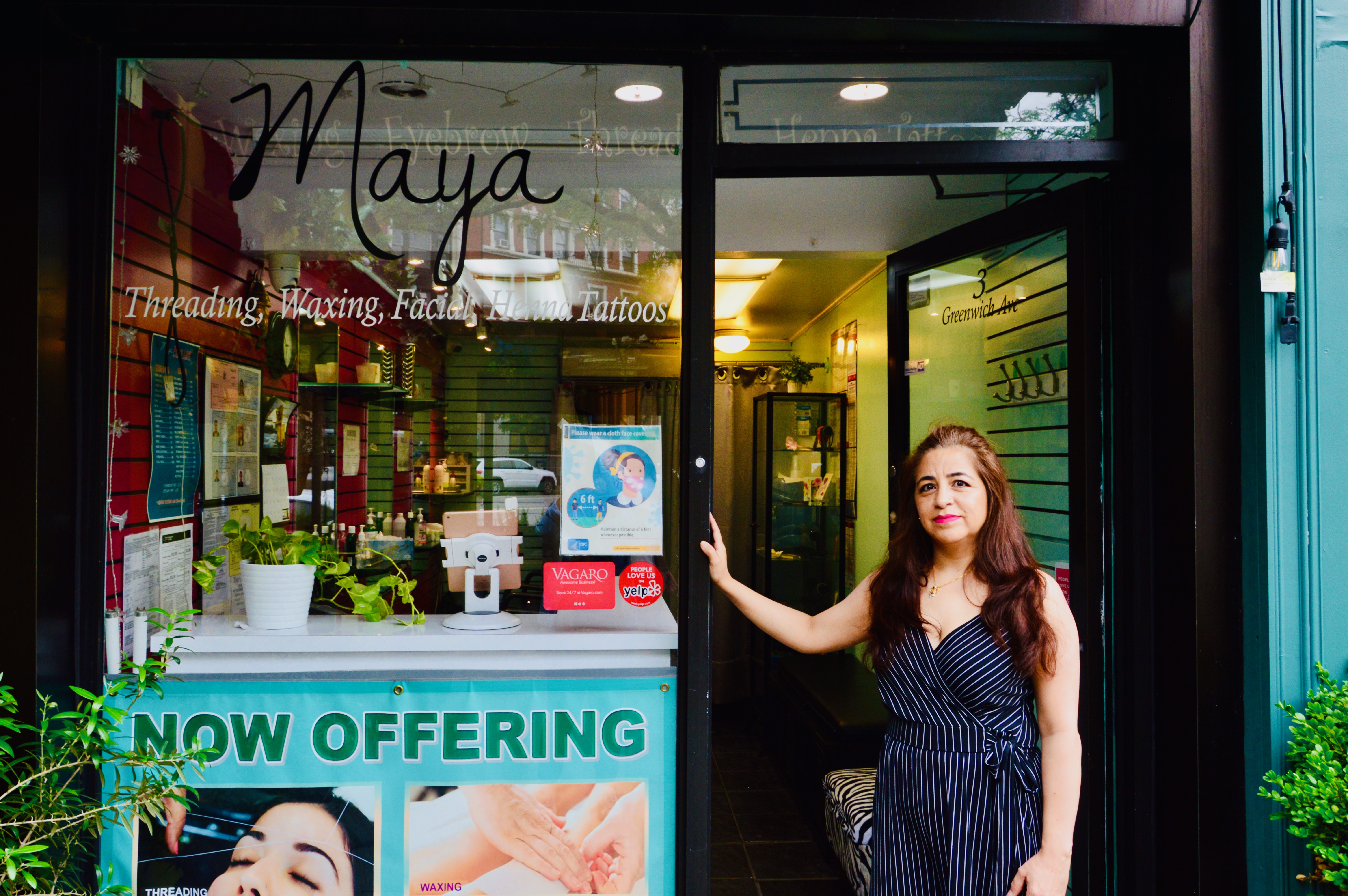 According to Jyoti; "the name originally comes from Nepal. Maya means love" in the Nepali language. And love is constantly present in this salon. Through the services they offer such as eyebrow threading, waxing, and henna, Maya Salon's estheticians are dedicated to making their clients look and feel good. In fact, what Jyoti loves most about working at Maya Salon is, according to her, "the sparkle in customers eyes when they like the service". Thanks to this passion and consideration the salon is able to prioritize building good relationships with clients. From reasonable prices to a convenient location you'll feel the love during your appointment.

When the COVID-19 pandemic began impacting businesses salons and spas were some of the ones most gravely impacted by regulations. Most of the services the business provides, specifically threading, requires estheticians getting very close to the customers. Even during the pandemic's safer moments Jyoti explained that "they have to face right in front of the customer, and work right with them so people would be hesitant to do services. They'd have their eyebrows done but would skip their chin or the rest of their face". In addition to this close contact, the salon also had to limit the amount of clients coming in a day to maintain social distancing regulations. As a result of COVID-19, it became hard to keep the salon open. Jyoti said that "they almost had to make some tough decisions".
With the Village Recovery Grant, Maya Salon was able to make some much-needed improvements that the pandemic was proving to make impossible without additional help. Through the funding the grant provided, the interior of Maya Salon was able to be completely renovated, giving the store a rejuvenated look. Additionally, the salon was able to update its website making it easier for clients to contact Maya Salon and book an appointment. Despite still having clients being hesitant about the close contact of a threading appointment Jyoti said in our interview with her that Maya Salon "is doing better now than during the pandemic". The Village Alliance is overjoyed to have been able to help Maya Salon stay open.

Book your own appointment today by heading over to Maya Salon's new website. Get ready for long summer nights and spring afternoons by treating yourself to a variety of spa services!