1/26/2023
A Look at Black History in the Village
In honor of Black History Month, we're looking at the black men and women who have impacted Greenwich Village over the years.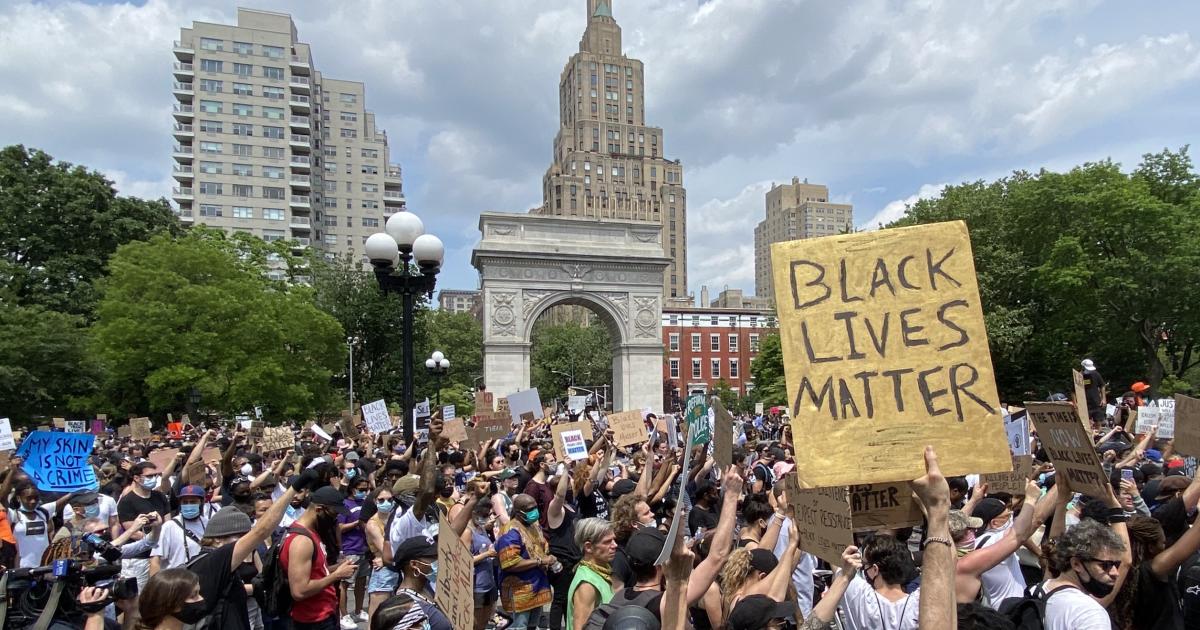 African-Americans have contributed greatly to the history of Greenwich Village. From Marsha P. Johnson's efforts in the Stonewall Uprising to Angela Davis' radical speak-outs against the Women's House of Detention, the Village has been heavily impacted by the work of the Black community. Below, we highlight some of these inspiring instances.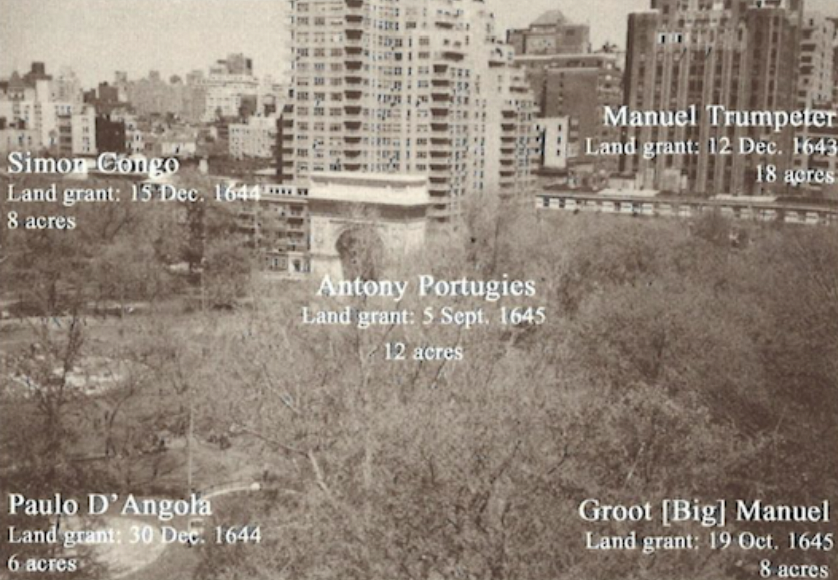 IMAGE BY CHRISTOPHER MOORE SHOWING AFRICAN LANDHOLDERS AROUND
WASHINGTON SQUARE PARK AND AS SEEN IN 'A WORLD OF POSSIBILITIES: SLAVERY AND FREEDOM IN DUTCH NEW AMSTERDAM.'
1626 – The First Free Black Settlement
in North America
Before Greenwich Village and Astor Place existed, there was Manhattan land farmed by the first free Black settlers in North America. In 1626, some of the very first Africans, brought to New Amsterdam by the Dutch West India Company, became landowners after successfully petitioning for their own freedom under the circumstances that a portion of their farming proceeds go back to the company. However, it can be suggested that black people were only granted "partial-freedom" because of the underlying reasons of the Dutch West India Company – the Council of New Amsterdam granted land parcels to free Blacks to have them serve as 'middlemen' between Native American zones and Dutch colonial settlers around 1644. Antony Portugies, Manuel Trumpeter and Simon Congo are just some of the freed Blacks who serviced the company for 18 years before owning land. Nearly 20 years later when the English captured New Amsterdam, naming it New York, landowning rights were taken away from Blacks and a majority of the previous settlements were taken by wealthy white landowners. (Sources: GVSHP, NY Times)
IMAGE BY NYCAGO. MOTHER AFRICAN METHODIST EPISCOPAL ZION IS THE OLDEST BLACK CHURCH IN THE U.S., FOUNDED IN 1796 BY CELEBRATED AFRICAN-AMERICAN RESIDENTS OF NEW YORK CITY.
1850s-1900s – Little Africa
Despite the taking of landowning rights in the 1660s, there maintained a large presence of African Americans in Greenwich Village. By the 1850s, Greenwich Village grew to become one of the largest African American communities in the city and people began to recognize the area as "Little Africa." Towards the turn of the twentieth century, many Blacks living in Little Africa were native southerners who had joined in a post-Civil War exodus of African Americans from the former Confederacy.
Additionally, the Village was home to the first Black church in the city, Mother Zion AME Church. Zion AME was a prominent place in history where constant abolition and civil rights organizing took place. At the time, gospel churches such as Zion AME not only served religious purposes, but also became a meeting grounds for all types of social life and activity. (Sources: Gerald W. MacFarland, Village Alliance)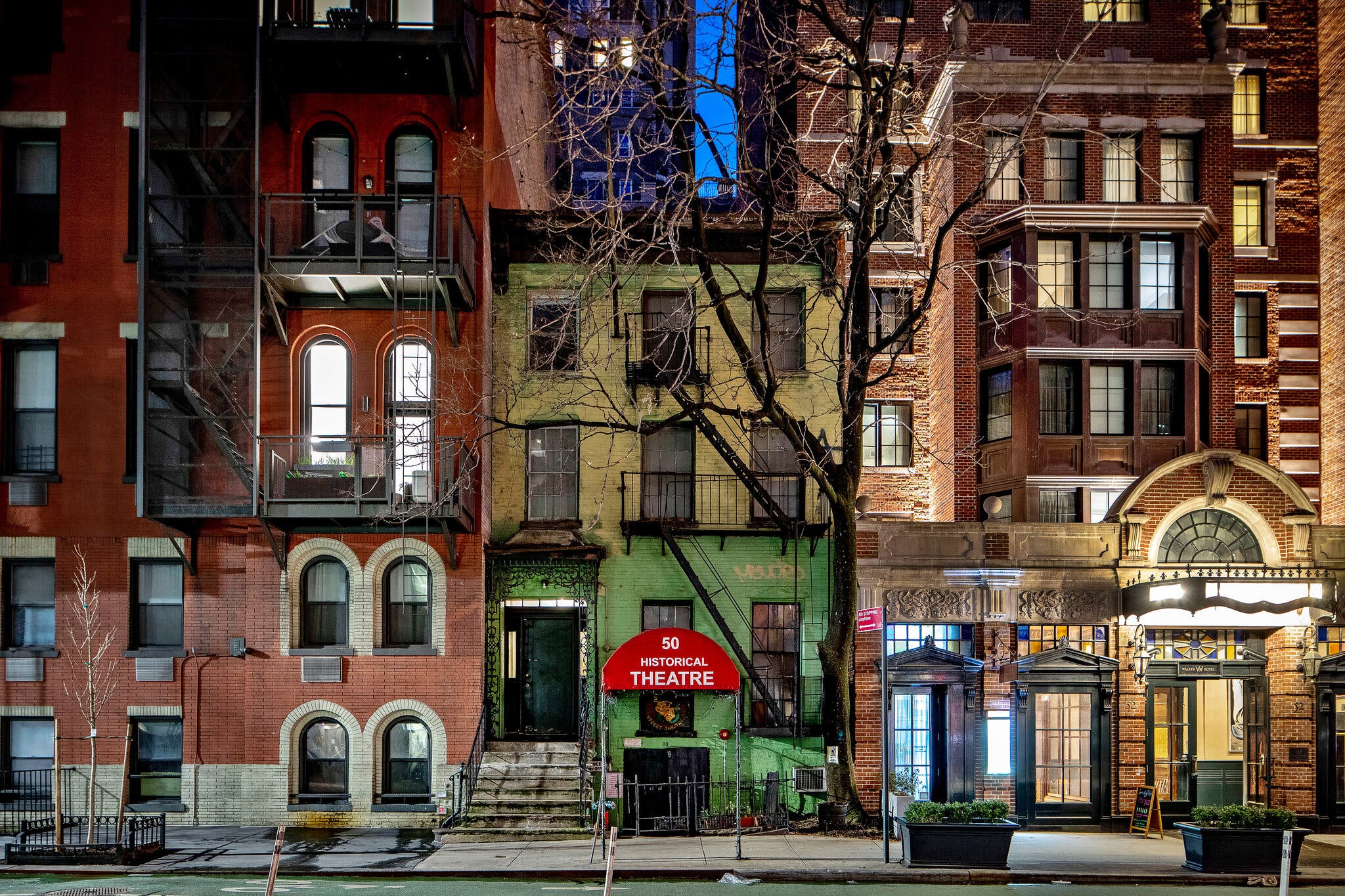 IMAGE BY KATHERINE MARKS COURTESY OF THE NEW YORK TIMES, SHOWING THE 13TH STREET REPERTORY COMPANY'S TOWNHOUSE AND UNDERGROUND RAILROAD OUTPOST
1700s- 1860s- Underground Railroad
During the 1700s and up until the 1860s, Greenwich Village was home to Underground Railroad outposts. Still operating as a theatre today, The 13th Street Repertory Company was an Underground Railway refuge for runaway slaves. Back during this dark period in American history, the building had a trap door in the dressing room area that led to a cellar. The building's history went undiscovered until The Villager Newspaper published an article from the building's inhabitant at the time in 1956. (Sources: NYU)
IMAGE BY DAILY NEWS SHOWING FREDERICK DOUGLASS, NATIONAL LEADER IN THE
FIGHT FOR ABOLITION DURING THE CIVIL WAR.
1863 – Frederick Douglass at the Great
Hall of Cooper Union
Frederick Douglass, one of the national leaders of the abolitionist movement, spent some noteworthy times in the Village. After escaping from slavery in Massachusetts, he found himself in the big city of New York where he immersed himself advocating for Black rights and publishing abolitionist literature. One key moment was his famous 1863 speech, "Men of Color, To Arms!" in commemorating Abraham Lincoln just six weeks after his passing and urging Blacks to make real what the Emancipation Proclamation promised – complete freedom. Despite initially criticizing the President for his slowness and hesitance in issuing the Proclamation, Douglass, after attending a meeting with the President, discovered that Lincoln "was the only white man who could talk to a colored man without assuming an air of condescension." The Great Hall of Cooper Union also hosted the first meeting of the National Association for the Advancement of Colored People (NAACP) in 1909. (Sources: New York Daily News, Andrew Berman of Village Preservation)
IMAGE FROM NAACP SHOWING WILLIAM EDWARD BURGHARDT DU BOIS (FEBRUARY 23, 1868 – AUGUST 27, 1963), AN AMERICAN CIVIL RIGHTS ACTIVIST, LEADER, PANAFRICANIST, SOCIOLOGIST, EDUCATOR, HISTORIAN, WRITER, EDITOR, POET, AND SCHOLAR.
1948 – W.E.B. Du Bois at The New
School
Originally from Massachusetts, Du Bois' efforts in the civil rights movement were based in the heart of New York. Co-founding NAACP and writing the acclaimed Black Reconstruction, Du Bois' ideals have forever proved valuable in understanding true abolitionist thought in combatting the deep-rooted racism in America. In 1948, Du Bois taught the first-ever African-American history class at the New School for Social Research. His main goal was to teach American history and stories through the lens of the Black experience by addressing slavery, the civil war, reconstruction and thoughts from other notable Black activists like Booker T. Washington and Frederick Douglass. He noted that because American history is usually taught by white people, who have never included this lens, it is important to tell this story separately. (Sources: GVSHP, NAACP)
IMAGE PROVIDED BY CNN OF MARSHA P. JOHNSON HANDING OUT FLYERS IN SUPPORT OF GAY STUDENTS IN 1970 AT NEW YORK UNIVERSITY.
1969 – Marsha P. Johnson in the LGBTQ
Rights Movement
Previously known as the "Mayor of Christopher Street," Marsha P. Johnson is thought to be one of the first drag queens to patronize the Stonewall Inn, which began as a male only gay bar. For decades, she was a notable presence in Greenwich Village and especially popular in New York City's gay and art scenes. She was a founding member of the Gay Liberation Front and co-founder of STAR (Street Transvestite Action Revolutionaries) in 1970 with ally Sylvia Rivera which was dedicated toward helping homeless young drag queens, gay children and trans-women. STAR was also inspired by their devotion towards establishing rights for sex workers, the incarcerated and those affected by HIV/AIDS. Johnson and Rivera will be the first-ever transgender activists to receive a permanent-public monument in New York City at Ruth Wittenberg Triangle at the head of Christopher Street. (Sources: CNN, Village Alliance)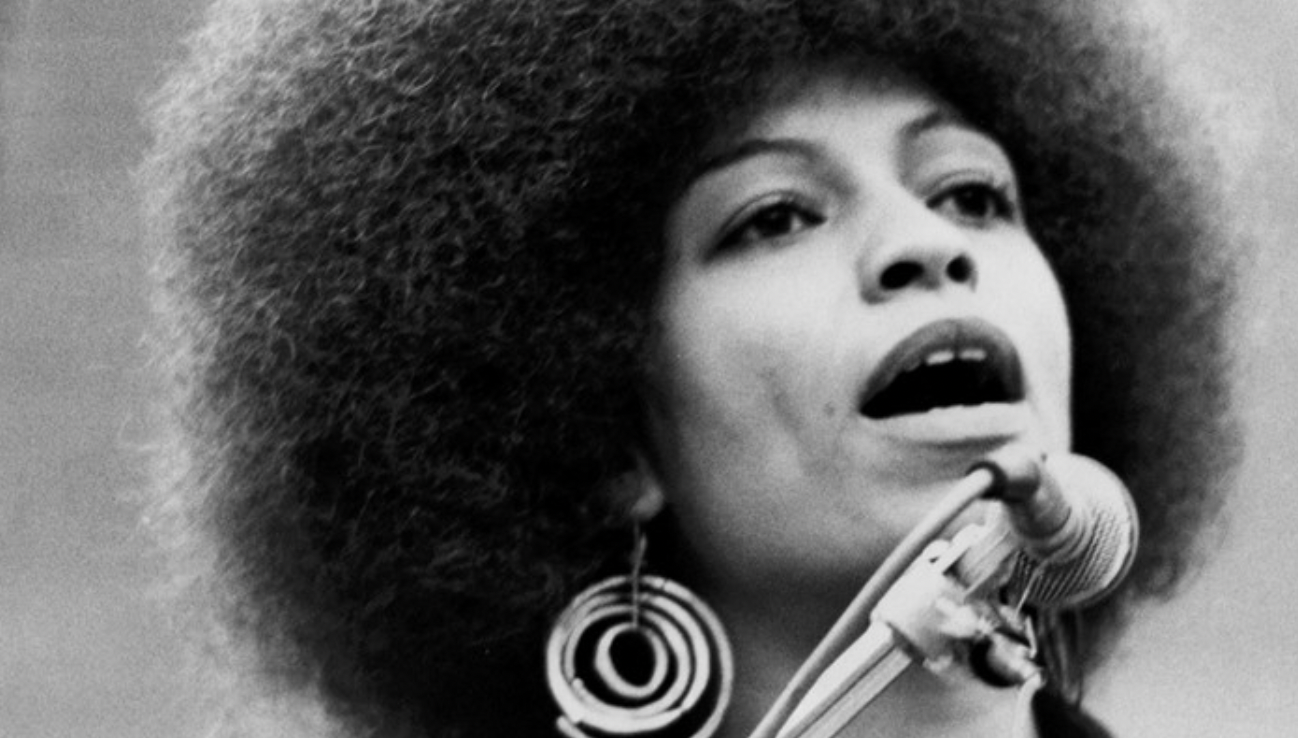 IMAGE BY GVSHP OF ANGELA DAVIS, RADICAL FEMINIST WHOSE POLITICAL IDEAS HAVE HELPED SHAPED THE MODERN DE-INCARCERATION MOVEMENT.
1970s – Angela Davis Against the
Women's House of Detention
Angela Davis' Greenwich Village beginnings started with her enrollment in the Little Red School House (LREI), the first progressive school in New York. Surrounded by community organizers and activists as a child, she was immersed in radical feminist views from a young age. During the 60s and 70s, Davis was involved in many radical feminist causes, was a member of the Communist Party of the USA, and an associate of the Black Panther Party. Due to some of her radical ventures, she was brought to the Women's House of Detention which stood on what is now the Jefferson Market Garden on 10th Street and Greenwich Avenue. After her time at the women's jail, she was found not guilty of the charges put against her. Later speaking out against the abuse and mistreatment received while in jail, Davis helped the motion of the prison's closure and demolition in 1974. Still today, Davis' abolition teachings against prisons are an inspiration for many. Read her influential book, Abolition Democracy: Beyond Empire, Prisons, and Torture. (Sources: GVSHP, The Villager)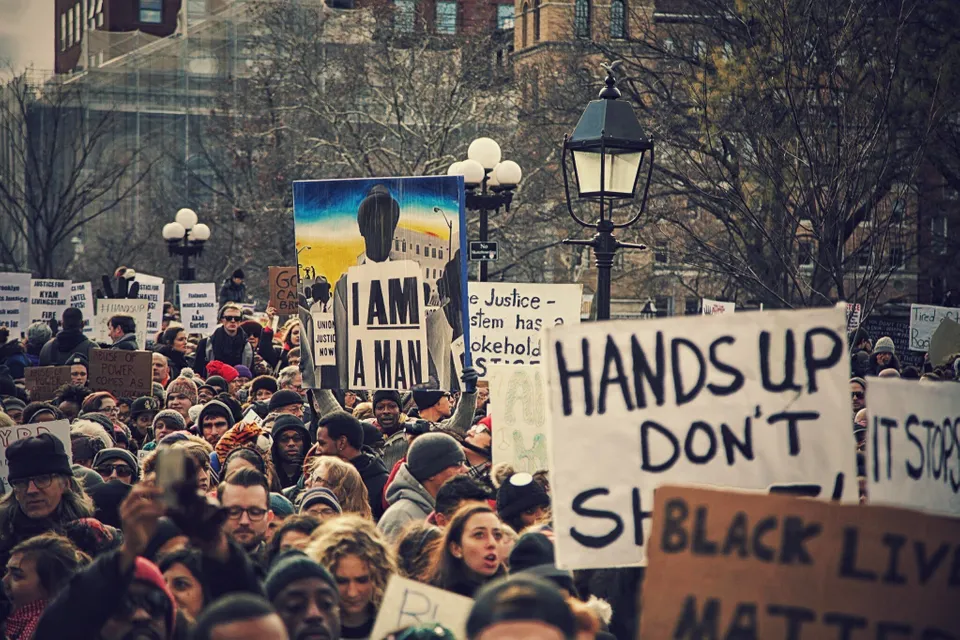 IMAGE BY HUFFPOST OF THE BLACK LIVES MATTER PROTEST IN WASHINGTON SQUARE PARK. REPORTS SAY THAT AROUND THIRTY THOUSAND PARTICIPATED IN THE MARCH.
2010s – Black Lives Matter Protests
In December of 2014, thousands participated in the "Millions March NYC" protests against policy brutality. Totaling around thirty-thousand protestors, the march spanned up to 19 blocks at its peak. Starting at Washington Square Park, the march garnered many with signs holding: "Black Lives Matter", "Ferguson is Everywhere", "Stop Police Brutality", "All Lives Don't Matter Until Black Lives Matter" and names of victims, like Eric Garner, Michael Brown, Tamir Rice and Trayvon Martin, who have unjustly died. Organizers of the movement explained that the march was not an end to the work that must be done to protect the vulnerable communities against police brutality; the march is only an indication of how widespread this issue is in America. (Sources: NYU Local, Huffpost)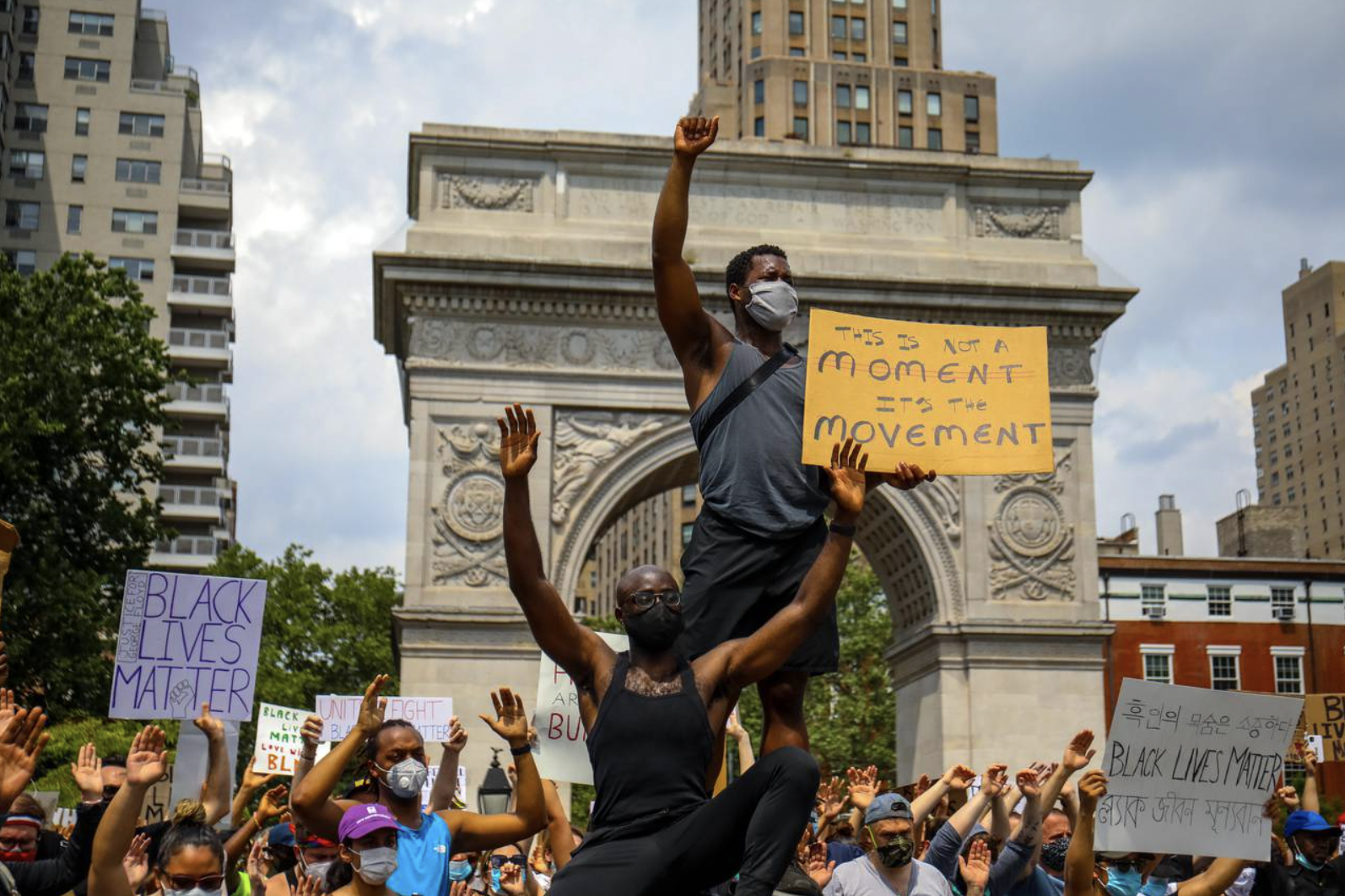 IMAGE BY THE GOTHAMIST OF BLACK LIVES MATTER RALLY IN WASHINGTON SQUARE PARK ON JUNE 6TH 2020.
Today – The Work Continues
Today, the Black Lives Matter movement is still spreading awareness about police brutality on black communities in order to shine a light on their unnecessary deaths. In June of 2020, the movement returned to the streets in massive crowds to protest the death of George Floyd, an unarmed black man who died in police custody. The entire city took part in protesting against not only his death but the systemic issues that led to his passing and hundreds of others. From the Bronx all the way to Brooklyn, New Yorkers took to the streets. Throughout the summer rallies took place in Washington Square Park and across the Village as change was advocated for. The Black Lives Matter movement continues to operate throughout the community today as we all work towards a better world (Source: New York Times, The Gothamist).

To further reflect on the importance of Black History Month and celebrate Black culture around the Village, check out these events and exhibits: