12/15/2021
Reviewing Our Astor Place Survey
The results of our Astor Place survey are in, and we would like to thank every person who participated and helped to make the plaza the best it could be.
Astor Place is the crossroads of the East and West Villages, the nexus of an exciting, young and vibrant artistic community. The streets and plazas running between Broadway and Third Avenue, including Lafayette Street, Fourth Avenue, and Cooper Square, house cutting edge tech companies, state of the art architecture, and higher education institutions. Not to mention an eclectic art scene with dozens of theaters, galleries and cultural spaces within a ten-minute walk; and, of course, the landmark interactive cube sculpture, "The Alamo," that has distinguished the Astor Place South Plaza for over 50 years.
The public plazas at Astor Place have been a home to cultural events, interactive art installations and everyday fellowship. Depending on the time of the year, between 100,000 and 175,000 people visit the public plazas each day. It has been five years since the $16M public plaza renovation at Astor Place reopened to the public, and our team here at the Village Alliance wanted to hear feedback from Astor Place's frequent visitors on our core services of sanitation, public safety, landscaping, placemaking and general maintenance.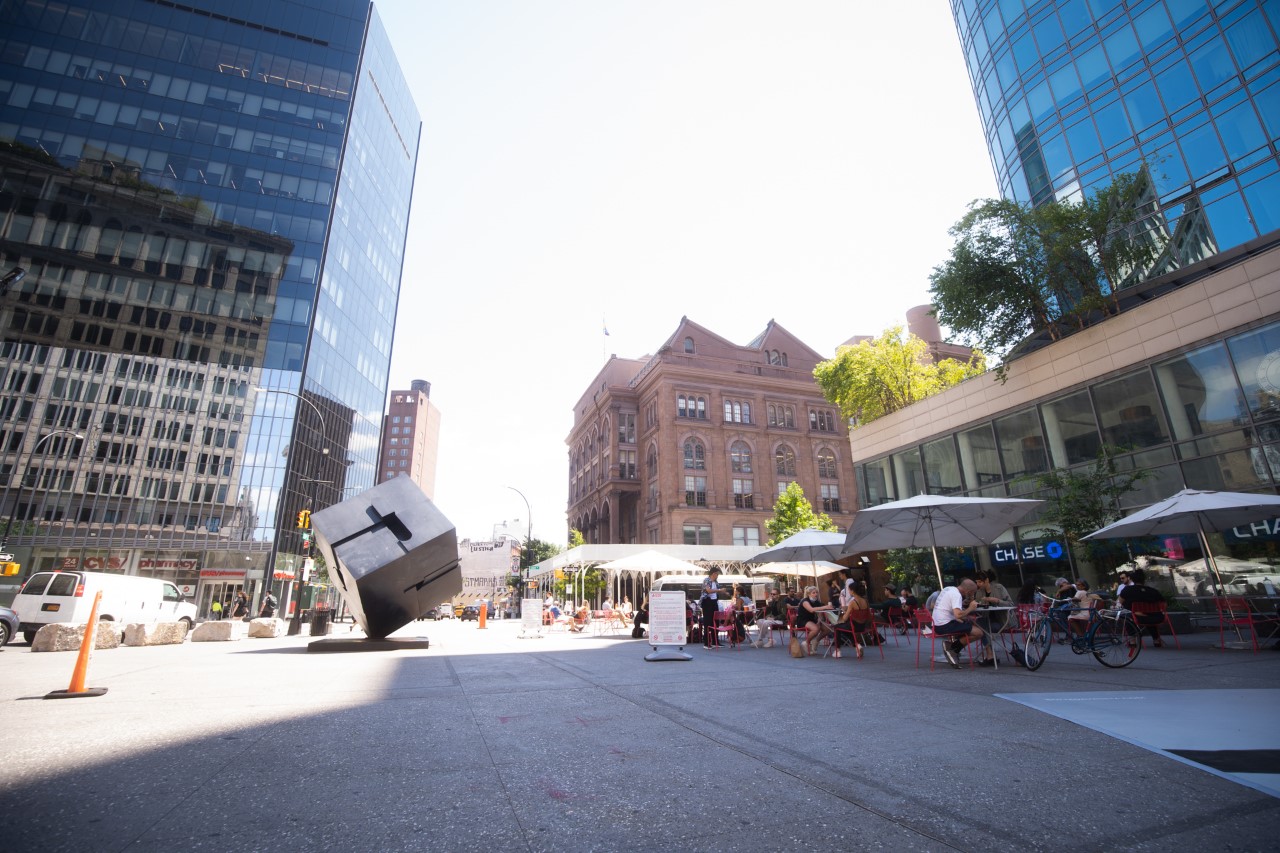 Nearly 200 people who live, work, and visit Astor Place responded to the call for comments and suggestions. 50% of respondents live within walking distance to the Astor Place neighborhood. 45% of respondents spend at least fifteen minutes at Astor Place each day while 31% of survey respondents say they're normally just passing through.
There are many reasons people visit Astor Place regularly. Nearly 40% of people come to Astor Place to sit and rest and work or study in the public place. "I love coming here to relax and eat during a mid-day work break," said one respondent. 26% of people say they generally meet up with a friend at Astor Place while another 27% say they visit the area because they are dining nearby.
People called Astor Place vibrant, fun, lively but also comfortable and convenient. Those who responded were impressed by the public art and events, the beloved Astor Plate Café (that serves MUD Coffee) and the feeling of safety and cleanliness when spending time on the plazas. In fact, over 62% of people always considered the plaza clean.
While overall neighbors seem to be pleased with the use of the plaza, the concern for misuse of the space such as biking and skateboarding, disruptive behavior, and the lack of seating and inadequate shade also filled the suggestion box.
The Village Alliance will spend early 2022 reviewing each and every comment while coming up with sustainable solutions to improve the quality of life in and around Astor Place. Thank you to every person who took the survey and be sure to check your email as five participants were randomly selected to receive $50 Village Bucks gift cards for their insightful comments and suggestions