3/25/2022
Re-Opening The Jefferson Market Garden
Where in the Village can you find a springtime sea of tulips, a fishpond with a turtle named Jeff, and a baby pineapple? They're all at Jefferson Market Garden!
Welcoming Back The Jefferson Market Garden on April 1st
Stepping into Jefferson Market Garden can be a welcome respite from the noise and crowds of the city. Inside, visitors can walk the circular path, take a break on one of the benches scattered throughout the Garden, enjoy the ever-changing colors of the flowers and plants, and relax.
Jefferson Market Garden was founded 47 years ago on the site where the infamous Women's House of Detention once stood. When that jail was torn down in 1974, neighbors asked the City for a garden to take its place. The land was transferred to the New York City Department of Parks and Recreation and the Jefferson Market Garden Committee, comprised of local residents, was formed to transform the site. The following year, flowers bloomed where once there had been despair. Since then, a group of volunteers, led by resident landscape designer and horticulturist, Susan Sipos, have carried on taking care of the Garden for the community, helping with planting and maintenance as well as greeting visitors.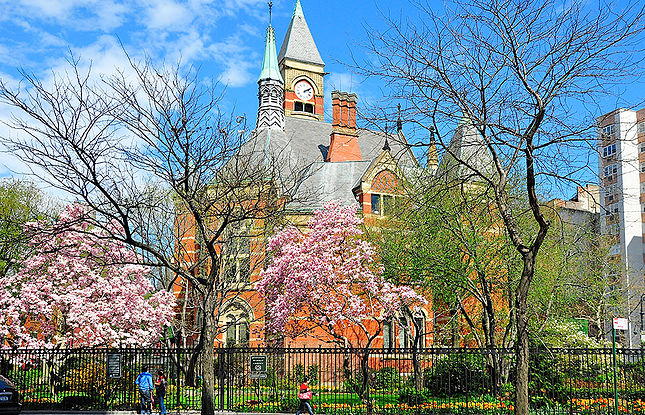 The Garden was originally planted with six different types of trees including two rare American Yellowwoods and a cherry tree that Andy Warhol liked to visit, fairy hedge roses, and holly bushes. A chain-link fence surrounded the grounds. The Garden, which was modeled after an English viewing garden, grew to include the aforementioned fishpond, a manicured lawn, brick-paved path, rose garden, greenhouse, and twice as many trees and shrubs. The chain-link fence was replaced in 1998 with a Victorian-inspired iron and steel fence, paid for by the Vincent Astor Foundation (named for the grandson of the Gilded Age's Mrs. Astor, Caroline Schermerhorn Astor).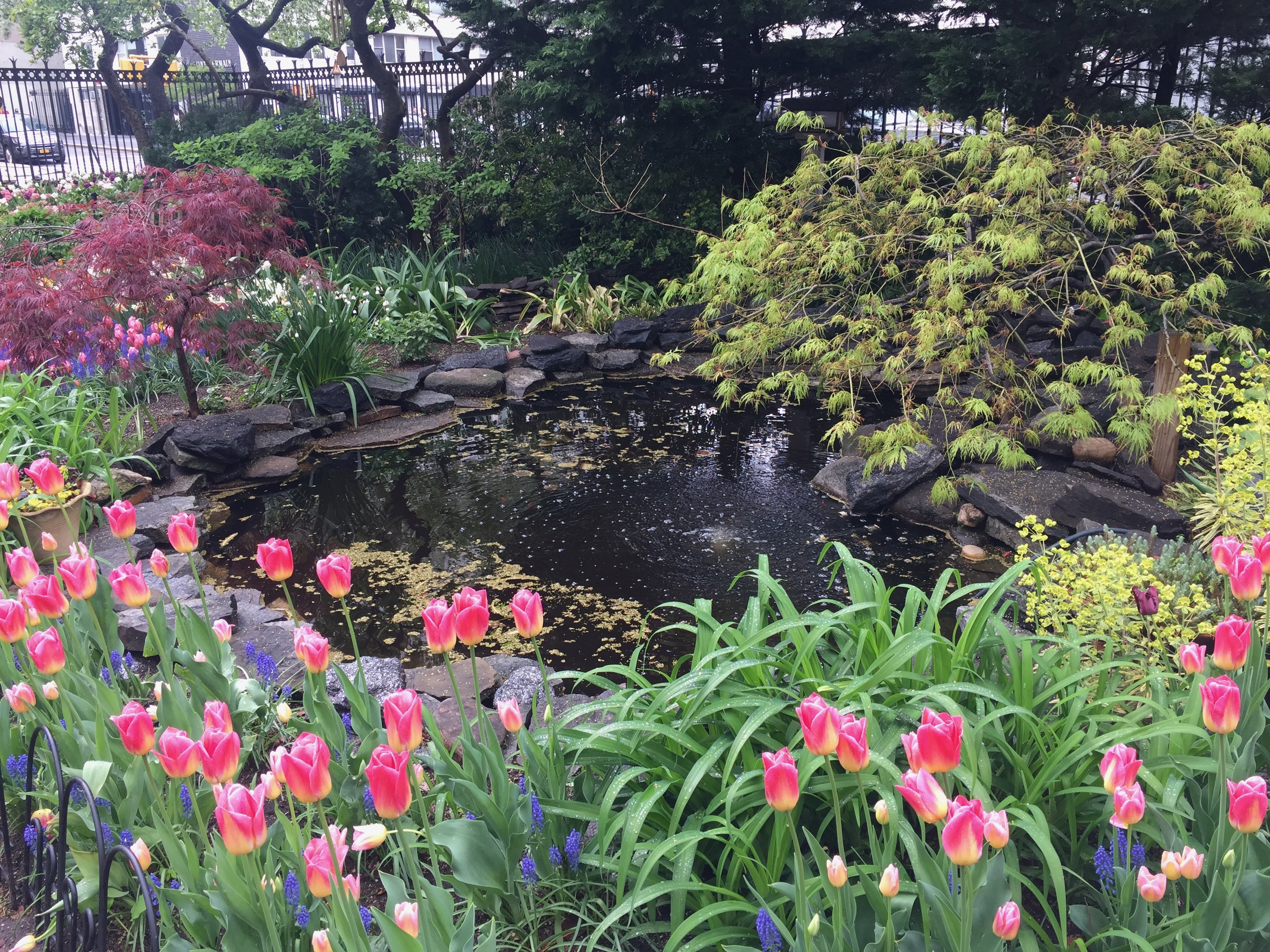 When the Garden finally opened to visitors in 1979, it was only open on Saturdays from 2 pm to 5 pm. Today, the Garden can be visited regularly Tuesdays through Sundays from 10 am to dusk, April through October (Mondays are reserved for maintenance, school groups, and scheduled programming).
The Garden hosts free events throughout the year including concerts and festivals, often in partnership with its neighbor, Jefferson Market Library. It's also occasionally used for weddings and film shoots.
So stop by Jefferson Market Garden this season and make sure to look for the pineapple.