5/9/2022
In Plain Sight: Art In Greenwich Village
We've partnered with public artist Kristina Libby to create an immersive animal-centric public art exhibit from Astor Place to Ruth Wittenberg Triangle.
Artwork provided by Kristina Libby
To access the full map click here.
Greenwich Village, long a hot-spot for art and architecture, will play host to In Plain Sight, an immersive animal-themed public art exhibit from June 10-12. The exhibit inspired by the unique history of animals in art and architecture in the neighborhood is a celebration of the resilience, courage and creativity of New Yorkers of all walks of life.
"We wanted to create an exhibit that felt joyful, while being interesting for all ages in our community," shared Rachel Brandon, the Marketing and Events director for the Village Alliance Business Improvement District. "This collaboration with both Kristina Libby and Gillie and Marc brought the opportunity to highlight numerous New York based artists who incorporate animals in their practice."

These pieces are hidden "in plain sight" throughout the 8th Street corridor and can be found in abandoned storefronts, hidden along the street, and in shops and restaurants. The intent is to mimic, in a way, the scavenger hunt popularized in the early 1990s by an illustrious organization known as the 7A (American Association for the Advancement and Appreciation of Animals in Arts and Architecture). This organization would take members on tours to spot Local artists who have created animal pieces inspired by and in response to their lives in New York City. 
Artwork provided by Kristina Libby
Items include three temporary public art installations in Astor Place by Kristina Libby that bring to life a new series of animals known as Chunkos. The Chunkos were created as a universe of animals based on keystone animals. These big apex animals created whole ecosystems by being themselves. Utilizing animal forms within modern cultures and textures, Libby's work draws attention to and invokes conversation with the concepts illuminated within the animal works. The Chunkos reappear in different mediums and activities throughout the 8th Street Corridor.
"Last year, I created a COVID-19 Memorial Project known as the Floral Heart Project and this year, I wanted to create something more joyful and inspiring," shared Libby. "The Chunkos are help the world by being themselves. That was a message I really wanted to share with everyone and inspire people to do the things that come naturally to them in service of the world around them. Art is a powerful form of activism and these characters help to connect with people of all ages"
Joining Libby are numerous artists, including:
Natale Adgnot, a Franco-American artist who uses abstract drawing and sculpture to explore cognitive bias and logical fallacy.
Tim Cahill a writer and musician living in New York. 
 Katerina Christina a Greek-American fine artist based in New York City whose moving street photography focuses on slowing down to appreciate the small but powerful moments we often miss while consumed in technology and the stressors of everyday life—the quiet moments in the chaos.
Ilena Doble Hernandz, whose socially conscious practice expands to photography, video, installation and new media.
Alexandra Jamieson a New York City-based watercolor and multimedia artist whose paintings have earned acclaim for their blend of natural, astronomical, and urban elements. 
Katherine Kessler a sculptor and artist working in New York City. 
Mija Jung a painter in New York and Berlin whose abstractions center on empowerment, with colors and emotions.
Elizabeth Pillsbury,a ceramic artist, a historian and a teacher who is deeply interested in how people create meaning and beauty within their environment. 
Nathan Ng Catlin is a multi media artist who works in Brooklyn, NY. As a mixed-race first-generation Asian American from southern California, Catlin is interested in the complex narratives that arise from distinctions (culture, views on morality, etc.) that bring people together and separate them. His work is representational and figurative, featuring human interactions that draw inspiration from classical paintings, comic books, and tattoos. His work has been shown nationally and internationally and is represented by Davidson Gallery in NYC. He works in multiple mediums including printmaking, painting, ceramics, stained glass, and mosaic.
And, Wren Macdonald a ceramic artist and illustrator living and working in New York City. 
All works and artists are subject to change based on availability and resources.
On Friday, June 10th, there will be an interactive public art painting exercise with Libby at Astor Place from 5-7pm. Music to accompany the painting exercise will be provided by Joey Rosin and Tal Yahalom. Curious artists of all ages are welcome to join as she paints in real time with the help of the community the inaugural animals in her Chunkos series.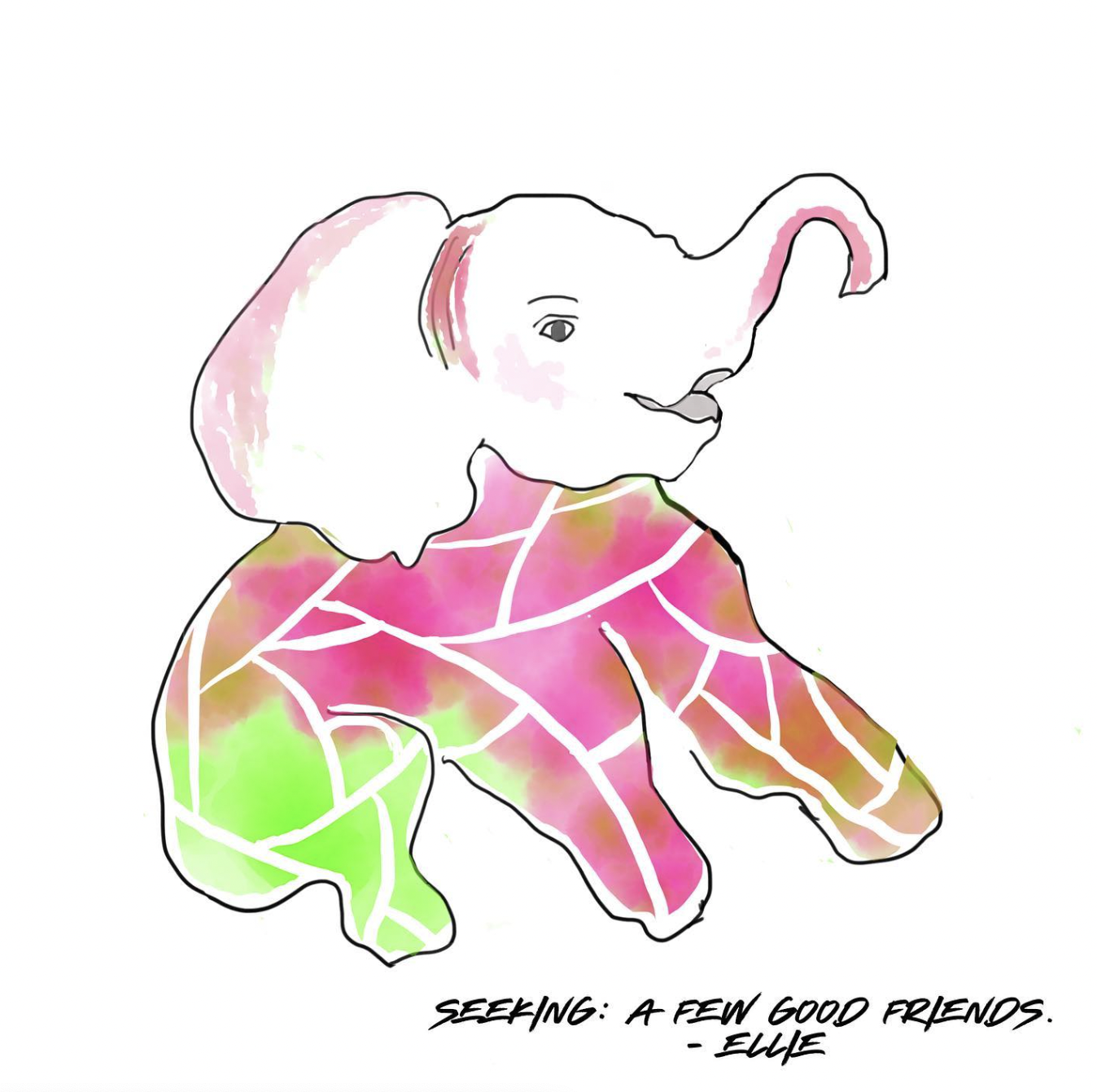 Artwork provided by Kristina Libby