11/5/2021
A Guideline for Homeless Services Outreach
New York City's homeless population has reached its highest levels ever, and with the frigid cold winter season here, it is imperative to understand how to do our part with the city and house the most vulnerable populations.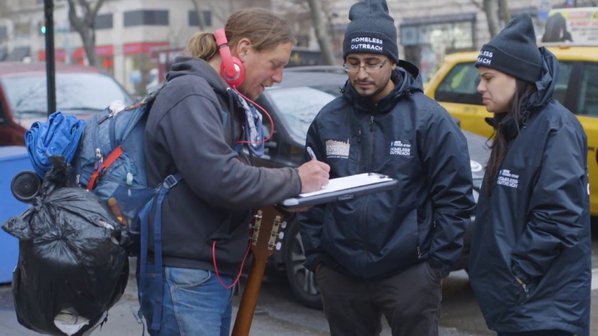 To better understand the necessary steps that can lead to housing for these individuals, read below on how the New York City's Department of Homeless Services is tackling these issues with outreach teams and how citizens can help in the process. 
What should I do if I see an individual or a group of individuals that appear to be street homeless? 
For the most immediate response, New Yorkers who see individuals they believe to be homeless and in need should contact 3-1-1 via phone or mobile app and request outreach assistance. You should call 911 if the individual appears to pose an immediate risk to themselves or others or there is criminal activity. 
What happens when I call 311 to report a homeless New Yorker in need of assistance? 
1. Individual calls 311 and a Service Request (SR) is created.
2. SR is evaluated and assigned to a contracted service provider (i.e. Goddard Riverside) or a partner Agency, (i.e. NYPD) as needed.
3. If assigned to a service provider, outreach team is dispatched within an hour of receiving the request.
4. Service provider outreach teams attempt to locate that individual and if found directly engage the individual, assess for safety and encourage them to accept services and transition off the streets.
How do outreach teams engage a homeless New Yorker in need of assistance? 
Experienced outreach teams from not-for-profit service providers canvass the five boroughs 24/7/365 as part of a citywide effort to identify and engage individuals who may be homeless, encourage them to accept services, and ultimately help them transition off the streets. Additionally, DHS performs joint outreach operations with community stakeholders and Agency partners, including the NYPD, the Parks Department, the Department of Health and Mental Hygiene, and the Department of Transportation to utilize each Agency's expertise, engage more New Yorkers, and offer more supports. Outreach teams have helped approximately 2,000 homeless New Yorkers off the streets citywide, thanks to new investments and a doubling of the size of those teams. 
How does the City know who is homeless and how to help? 
Through the city's Homeless Outreach & Mobile Engagement Street Action Team (HOME-STAT), outreach is happening everyday. HOME-STAT partners existing homeless response and prevention programs with new innovations designed to better identify, engage, and transition homeless New Yorkers to appropriate services and, ultimately, permanent housing. Central to the HOME-STAT effort, outreach teams work 24/7/365 in all five boroughs to continue to build the City's first-ever by-name list of individuals who are: 
known to HOME-STAT outreach teams; AND 
confirmed to be experiencing unsheltered homelessness; AND 
currently engaged by HOME-STAT outreach teams; 
Those individuals living on the street face tremendous barriers to coming indoors—many have fallen through every social safety net and may have experienced trauma or suffer from mental health or substance use challenges, making them DHS' most service-resistant population. It can take months of persistent and compassionate engagement, involving hundreds of contacts, to successfully encourage street homeless individuals to accept City services and transition indoors.
With no one-size-fits-all approach to ending homelessness, the by-name list enables HOME-STAT outreach teams to more effectively engage each of these individuals on a case by case, person by person basis, directly and repeatedly, where they are, to evaluate the immediate and root causes contributing to their homelessness, continually offer a helping hand, develop the unique combination of services that will enable them to transition off the streets, and build the trust and relationships that will ultimately encourage these individuals to accept services.
As part of building the by-name list, HOME-STAT outreach teams are proactively and continually working to engage individuals who they newly encounter on the streets to evaluate their living situations, including whether they have a place to sleep at night, in order to determine whether they are homeless, and, if so, what specific supports they may need. Individuals who have been encountered on the streets by HOME-STAT outreach teams, but whose living situations have not been confirmed are considered prospective clients. If HOME-STAT outreach teams confirm that prospective client is in fact experiencing unsheltered homelessness, that person will be moved from the prospective client list to the by-name list.
What services does DHS provide to street homeless individuals? 
In addition to redoubling and enhancing proactive round-the-clock street outreach efforts, DHS operates facilities dedicated to serving street homeless New Yorkers—and is in the process of opening more. Drop-In Centers and Safe Havens are low-barrier programs specifically targeted toward homeless individuals who may be resistant to accepting other services, including traditional shelters. Both Drop-In Centers and Safe Havens are equipped with on-site services and staff who work closely with the clients to deepen those relationships, stabilize their lives, and encourage them to transition further off the streets, and ultimately into permanent housing. These facilities are often the first step towards bringing street homeless New Yorkers indoors. 
Drop-in Centers provide baseline services with the goal of meeting immediate needs for individuals, such as showers, meals, and clothing. They also have on-site case management services and provide an immediate option for individuals who want to transition off the streets. To more effectively provide options for street homeless individuals to obtain services, the de Blasio Administration restored 24/7 service at Drop-In Centers.  
Safe Havens are transitional housing options geared toward chronic street homeless individuals. Safe Havens only take referrals from street outreach teams, offer overnight beds, provide robust case management services, and have physical and program characteristics more suitable for helping street homeless New Yorkers stabilize their lives in an effort to move them into permanent housing. Safe Havens are one of the most effective tools available to HOME-STAT outreach teams working to help street homeless individuals transition off the streets and subways, which is why the de Blasio Administration has doubled the number of Safe Haven beds available citywide and is in the process of tripling the number of beds dedicated to supporting street homeless New Yorkers citywide since 2014. 
What happens if someone declines help from the outreach team? 
Accepting outreach efforts, including services that will help homeless New Yorkers transition indoors from the streets, is voluntary, and it can take months of persistent and compassionate engagement to successfully connect street homeless individuals with City services. The City remains undeterred in its efforts to engage them, proactively offering assistance and services, until they make the connection that will help them transition off the streets. The City's teams continue to reach out to these New Yorkers to offer services and help them come indoors.
How does the City address physical conditions on the streets? 
Outreach teams coordinate closely with partner Agencies, including the NYPD and the Department of Sanitation, as well as property owners to address and clean any conditions whenever and wherever they may occur, consistent with the requirements of local law. At the same time, outreach teams encourage street homeless individuals to accept services and transition indoors. 
Each clean-up occurs on a case-by-case basis, responsive to dynamic circumstances on the ground regarding the particular known homeless individual. Prior to every clean-up, all partner agencies work to carefully assess the details of a given condition or situation, including the physical location as well as the number and type of possessions. In cases where a client may be mobile and moving their belongings with them, a careful assessment must be performed each time a client moves, as conditions may have changed, potentially altering the service needs of the client and the clean-up plan.
What is the difference between an encampment, pop-up, and a hotspot?  
Encampment: An outdoor location with a fixed, visible structure where two or more individuals gather, often under bridges or in remote areas. When teams clean encampments, they coordinate closely with City agencies, including NYPD and DSNY in all cases, as well as other relevant partner agencies when appropriate. 
Pop-Up: A pop-up location appears quickly and is usually temporary. It includes some level of debris such as carts, cardboard. 
Hotspot: A location where two or more homeless individuals are gathered without a structure  
A Code Blue Weather Emergency notice is issued when the temperature drops to 32 degrees Fahrenheit or less between 4 p.m. and 8 a.m., including National Weather Service calculations for wind chill values. No one who is homeless and seeking shelter in New York City during a Code Blue will be denied. Should you see a homeless individual out in the cold, please call 311 and an outreach team will be dispatched to help. Code Blue Weather Emergencies involve shelters, drop-in centers and street homeless outreach in order to safely accommodate vulnerable individuals through harsh weather conditions. Similar protocols are initiated in Code Red emergencies during periods of extreme heat and humidity.
The Village Alliance is making every effort to connect individuals with New York City provided services. The Alliance is also working diligently with property owners and managers on case-by-case basis. If you have any questions or concerns about any of the above, please do not hesitate to reach out to us at 212-777-2173 or info@greenwichvillage.nyc